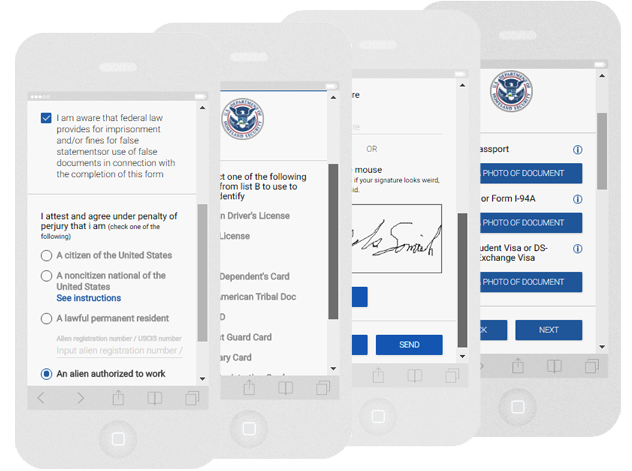 The I-9 game was tedious, so we literally flipped it
As former HR pros (with over 1 million I-9s audited under our collective belts), we were, in a nutshell, - FED UP! The I-9 is a pain in the butt, and we knew it could be streamlined, simplified, and best yet, your new best friend.</p> <p>You're inundated with more important things on a daily basis, so we broke the form into 60 plus bite-sized pieces, automated the heck out of it, and made it one of the most simple, cut-and-dry processes known to man.<br />
The new hire progresses through the system with our support every step of the way, and a member of their own social or professional network verifies their final documents. This is a big deal as remote employees can now be onboarded without ever having to step foot into headquarters.</p> <p>The app is the first of its kind to be translated into 15 distinct languages which solves a host of problems that many companies continue to struggle with. A truly unique solution for an ever growing demand.
Why your company needs this
I_9s done without this app take an inordinate amount of time to process, track and update. HR time is valuable, real valuable. It shouldn't be spent on I_9 compliance. Ever.
Why your company can't go on without it
Federal audits are becoming commonplace and we know exactly what they audit for. The fines are not fun, and this app protects against any foreseeable trouble spots.